Cavani String Quartet Premieres Gould's Piano Quintet in Wilmington, NC
Wilmington, NC -- April, 2014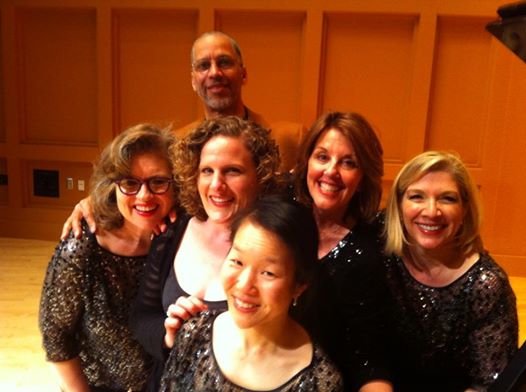 The Cavani String Quartet and pianist Barbara McKenzie commissioned and premiered Eric Gould's piano quintet "The Fire Within" at Chamber Music Wilmington's final event at UNC Wilmington. The three movement piece, dedicated to Gould's wife, pianist Dianna White-Gould, features a mixture of approaches within a cohesive framework.
The large crowd gathered at UNC Wilmington was very appreciative and sent the musicians off to a rousing ovation.
Berklee College of Music Names Gould Chair of Jazz Composition
Boston, MA -- August, 2012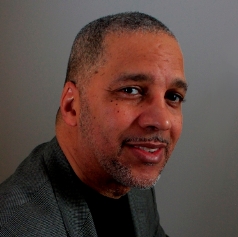 Berklee College of Music has hired Eric Gould to lead its Jazz Composition department effective August, 2012. The college, originally a trade school for students interested in honing their composition and arranging skills in jazz, boasts a stellar group of alumni, including such luminaries as Quincy Jones, Toshiko Akiyoshi, Mike Stern, Hiromi, Danilo Perez, Branford and Delfaeyo Marsalis, Donald Harrison, Terri Lynne Carrington, and many others.
Gould's "Diaspora of the Drum" featuring Savion Glover premieres at Playhouse Square
Cleveland, OH -- April, 2008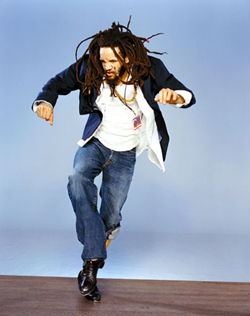 Tap dance phenomenon Savion Glover and the Grammy Award-winning Cleveland Chamber Symphony performed Eric Gould's composition "Diaspora of the Drum" at the Allen Theatre in Cleveland's Playhouse Square on April 5th, 2008. The work is composed for orchestra, jazz ensemble, African percussion, and tap dancer.
The concert was the second annual benefit for the Cleveland Music School Settlement. Last year's benefit concert featured the Lincoln Center Jazz Orchestra's "Congo Square."
Cleveland Music School Settlement Names Gould Director of Department of Music
Cleveland, OH -- August, 2007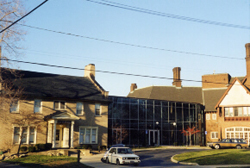 The Cleveland Music School Settlement, one of the nation's oldest and largest community music schools, named Eric Gould Director of the Department of Music. He will head a faculty of over 60 with a student enrollment of over 1,000.
The Settlement offers music instruction in three major areas; the Department of Music, which serves students from early childhood to late adulthood, Music Therapy, which serves students with a variety of special needs, and Early Childhood, which caters to children in their formative years. The faculty at The Settlement includes members of the Cleveland Orchestra, the Cleveland Chamber Symphony, the Jazz Heritage Orchestra, Red: An Orchestra, and many other acclaimed ensembles.
All That Jazz at the NFL Hall of Fame Festival
Canton, OH -- August, 2004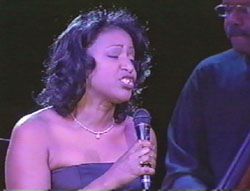 Vanessa Rubin performs with the Eric Gould Ensemble at the NFL Hall of Fame Festival
"All That Jazz" was the theme for this year's NFL Hall of Fame Festival fashion show at the Canton Civic Center in Canton, Ohio. The annual event, always a glitzy and glamorous affair, was attended by an audience of over 4,000 customers who turned out to witness a spectacle involving runway models, large screen projections, and an all-star jazz ensemble under the direction of pianist/composer/arranger Eric Gould. The ensemble, including vocalist Vanessa Rubin, saxophonists Antonio Hart and Lance Bryant, violinist Christian Howes, drummer Cindy Blackman, percussionist Bill Ransom and bassist Glenn Holmes, performed Gould's arrangements of "Night in Tunisia," "Superwoman," "The Way You Look Tonight," and "Canteloupe Island." Rubin played the role of jazz diva to the hilt, singing with authority and sporting a $150,000 diamond-studded necklace for the event.
"Jazz made the day," reported the Evening Independent. "The live jazz was phenomenal. The eight-member, All Star Jazz Band, all tops in their own right brought members from Cleveland and New York City to perform." The producer of the event, Joel Solloway of Eventworks Inc., has since retained Gould as the Music Director for the company, which has offices in Las Vegas and Cleveland.
Gould Receives OAC Composition Fellowship
Cleveland, OH -- September 2004
Composer Eric Gould has received an Artists Fellowship Award for Music Composition from the Ohio Arts Council for 2004. The award is based upon an anonymous review of works in several different disciplines by panels of experts in the respective discipline, and rewards artistic excellence for Ohio artists. Gould, who teaches Theory and Electronic Music at Cleveland State University, has been active as a composer for many years, but is most widely known in the area for his work in jazz. The Canton Symphony Orchestra, the Cleveland Chamber Symphony, the Cavani String Quartet, pianist Halida Dinova, and many others have performed his works. This is his first award from the Ohio Arts Council.
EventWorks Inc. Makes Gould Music Director
Cleveland, OH -- August 2004
Eventworks Inc., an event production company with offices in Cleveland and Las Vegas, has named Eric Gould as Music Director. The company specializes in event and video production, and has worked such large-scale events as the NFL Hall of Fame Festival, the Regional Emmy Awards, and most recently, the Vice-Presidential debate.
The foray into offering music services is a significant step for the 10-year old company, because many of the projects that they are currently involved in have a music component. Bringing a music operation in-house means having additional control over the final product.
Gould was Music Director for the NFL Hall of Fame Fashion Show produced by Eventworks in August, 2004.
Gould Hired At CSU To Set Up Electronic Music Lab
Cleveland, OH -- September 2003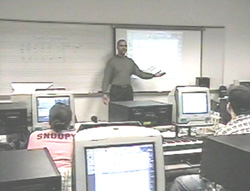 Cleveland State University hired Eric Gould to teach and set up an electronic music lab to teach students skills in using music software. The Apple-based lab will enable students to sequence, record, and notate music and will enable teaching principles of acoustics and sound design.
Berklee Convenes a Symposium on "The State of Jazz Composition"
Boston, MA -- April, 2014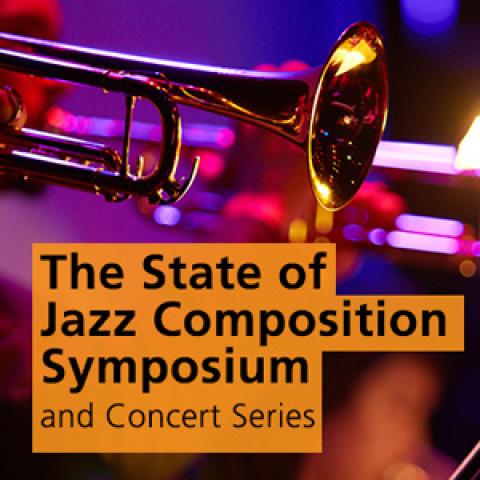 The Berklee College of Music convened a group of top jazz composers and industry professionals to reflect on the state of jazz composition. Symposium founder and curator Eric Gould, Chair of Jazz Composition at Berklee, invited composers Billy Childs, Rudresh Mahanthappa, Vijay Iyer, Terence Blanchard, Patrice Rushen, Maria Schnieder, and Geri Allen to join Berklee faculty and students in a series of workshops, concerts, and panel discussions over the course of a week.
For more information, go to www.berklee.edu/jcs
Gould's Tribute To Oscar Pettiford Performed at Berklee With Bass Legend Ron Carter
Boston, MA -- October, 2010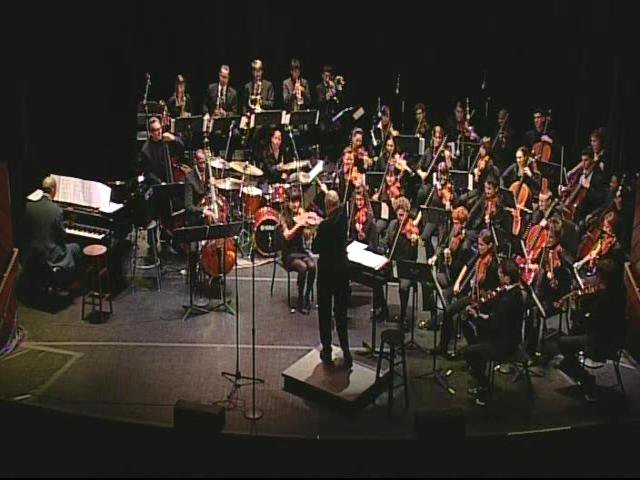 The Berklee World Strings performed Eric Gould's Tribute to Oscar Pettiford with the Ron Carter Quartet at Berklee College of Music. Performers included Eric Gould, Bill Pierce, Terri Lynne Carrington, Leon Maleson, Daniel Ian Smith, and a host of very talented students under the baton of cellist and conductor Eugene Friesen.
The Music Settlement Launches New Partnership With Berklee College of Music
Cleveland, OH -- June, 2008
In summer of 2008, the Cleveland Music Settlement announced the formation of a new jazz program for youth called "Jazz @ The Music Settlement (JAMS)". This immersive program provides youth with a solid foundation in the principles, techniques, and history of jazz.
After a highly successful launch, it was announced that the program will operate in partnership with the Berklee College of Music's CityMusic program. CityMusic is a network of youth music programs around the country that is linked through an online training platform called PULSE
As part of the partnership, Berklee and The Music Settlement will team up to send a minimum of two students each year to the acclaimed Berklee 5-Week Summer Performance Program. This program provides a college immersion experience at Berklee in Boston for students who are over age 14. It is an excellent opportunity for students to find out what it takes to be a music major at Berklee.
To be eligible for the 5-Week experience, students have to be recommended to audition by the faculty at The Music Settlement. This highly competitive process will take into account all facets of the student's development and performance.
Gould Named Visiting Professor at the College of Wooster
Wooster, OH -- September, 2006
Eric Gould has been named Visiting Professor at the College of Wooster, and will lead the jazz ensembles. Jeff Lindbergh, Director of the Chicago Jazz Orchestra and the Wooster Jazz Ensemble will be on sabbatical, completing a large-scale transcription project.
Gould leads an All-Star tribute to Oscar Pettiford at Tribeca Performing Arts Center
New York, NY -- June, 2006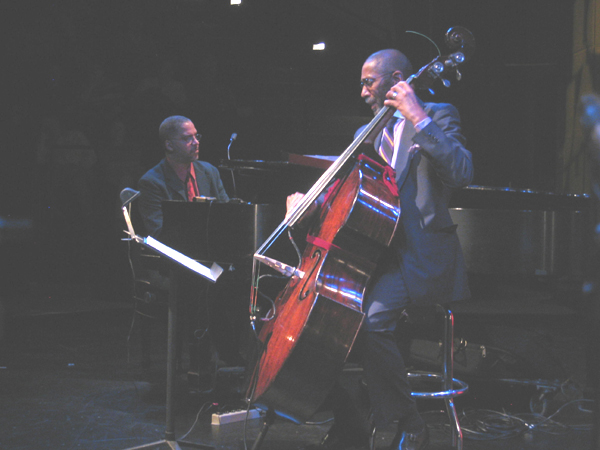 Legendary bassist Ron Carter performs on piccolo bass with Eric Gould on piano
"Bohemia After Dark," a tribute to legendary bassist Oscar Pettiford premiered at the Tribeca Performing Arts Center in June, 2006. The program featured another legendary bassist, Ron Carter, backed by an eight-piece ensemble featuring saxophonists Antonio Hart, Patience Higgins and Don Braden, trumpeter Sean Jones, trombonist Robin Eubanks, bassist Leon Lee Dorsey, drummer Vincent Ector, and Gould on piano. The band performed arrangements by Gould of the music of Oscar Pettiford in front of a sold-out crowd.
Gould Named Visiting Professor at Oberlin Conservatory
Oberlin, OH -- September, 2005
Eric Gould has been selected as Visiting Professor of Music at the Oberlin Conservatory of Music for the 2005-2006 school year. Wendell Logan, the founding Chair of Oberlin's prestigious jazz program, selected Gould at the recommendation of Jimmy Heath. Gould will teach jazz arranging and composition and history of African-American music.
Canton Symphony Premieres "An American City" at Bicentennial Event
Cleveland, OH -- April, 2005
The Canton Symphony Orchestra capped off the bicentennial celebration of Eric Gould's "An American City" in May, 2005. The work was commissioned under a grant from the National Endowment for the Arts which placed Gould as a composer-in-residence. The piece reflected on the City's history, from Native American hunting grounds to an industrial crossroads, and up to today. A large and appreciative crowd witnessed the premiere, which featured narrations by the Mayor of Canton and several high school students from Canton McKinley.
Gould Introduces The Dameron Project at
Tri-C JazzFest
Cleveland, OH -- April, 2004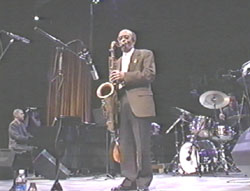 Legendary saxophonist Jimmy Heath performs with Gould's Dameron Project at the Tri-C JazzFest
This year's 25th anniversary edition of the Tri-C JazzFest featured a performance by a stellar ensemble that was assembled to pay tribute to one of the great jazz composers of all time, Tadd Dameron. The eight-member ensemble, under the direction of pianist-composer Eric Gould featured saxophonists Don Braden, Howie Smith and George Shernit, trombonist Robin Eubanks, trumpeter Derrick Gardner, drummer Yoron Israel, bassist Glenn Holmes, and as special guest the legendary saxophonist Jimmy Heath. The group performed Gould's own arrangements of Dameron's music to an appreciative packed house at Tri-C's Main Stage Theater.
The list of tunes performed included "Mating Call," "On a Misty Night," "Our Delight," "If You Could See Me Now," "Lady Bird," "Good Bait," and "Hot House." The intricate arrangements were handled expertly by the ensemble, and with an impressive array of soloists, the crowd responded very enthusiastically. Asked to comment after the performance on the experience, Jimmy Heath responded: "Eric Gould is a composer/arranger with exceptional depth and musical understanding. It is a pleasure to play or listen to his music. I am very impressed with his skills."
Though Dameron was a native Clevelander and still has family in Cleveland, this was the first time that Tri-C JazzFest had ever offered a tribute to him. "There is no Cleveland musician in the history of jazz with greater prominence and significance than Tadd Dameron" says Gould. "The Tri-C JazzFest should find a way to honor him at every festival, through a series dedicated to his name, and what he stood for musically."
Gould plans to record a CD with the Dameron Project in the future. The ensemble, which now includes saxophonist Antonio Hart, is available for performances, clinics, and workshops at colleges, festivals, and events.
Gould Selected for Residency with Canton Symphony Orchestra
Canton, OH -- June, 2004
The Canton Symphony Orchestra has received a $15,000 grant from the National Endowment for the Arts to support the Community Heritage Celebration. A new work by composer Eric Gould, based on the history and diversity of the city's neighborhoods, will be created and presented with the involvement of school students and other community members. The residency will begin in January 2005, and will culminate in a performance of the work by the orchestra. Details of the event have yet to be disclosed.